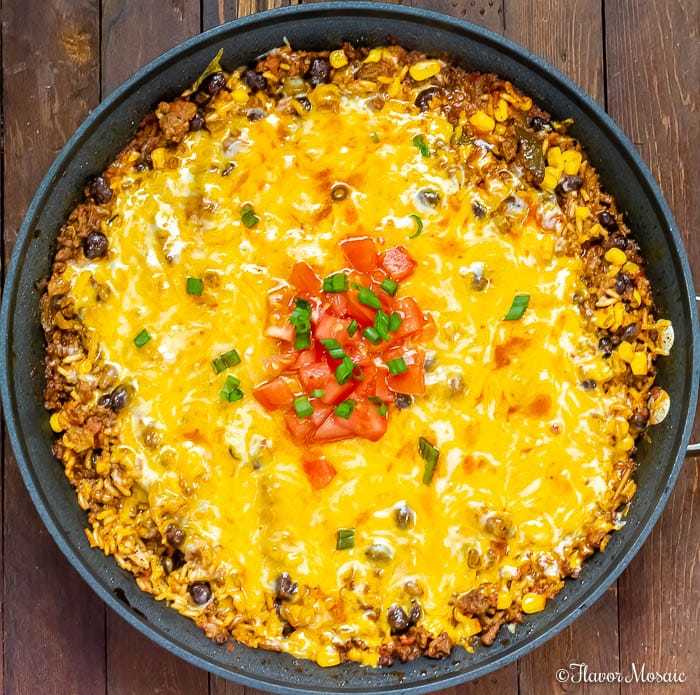 This is a great quick one pan recipe I make a lot. You can use ground beef, chicken, pork, any or no meat.
1 medium onion, diced
1/2 - 1 medium bell pepper, diced
1/2 pound meat, chopped or ground
2 cups cooked rice - half cooked
1/2 can diced tomatoes or 1/2 jar salsa * I use medium
1/2 can corn or 1/2 cup frozen - optional
1/2 - 1 can black beans - optional
1 Tbsp Cumin, 1-2 tsp hot pepper flakes, 1/2 -1 tsp garlic powder, 1/2-1 tsp onion powder 1/2 tsp sugar
1 cup shredded cheese, I use Mozzarella but you can use any
In a large saute pan, Saute the peppers and onions, add your meat. Saute until meat is almost cooked, add rice, tomatoes or salsa, and beans. Add enough water to cover 1 1/2 inches, add spices.(You can adjust spices to taste, I like to double the amount of Cumin and hot pepper flakes. Bring to boil, turn down and let simmer until water is absorbed. Sprinkle cheese on top and cover. Let it sit for 15 minutes so cheese can melt.
Option- Serve with Tortilla Chips